The Monymusk Arts Trust is a charity that supports and showcases the work of local artists, crafts people and musicians. Between the months of May to September the centre is open daily with art exhibitions and local crafts for sale. During the winter months concerts of chamber music, plays and the Doric Festival take place which raises vital funds for the group.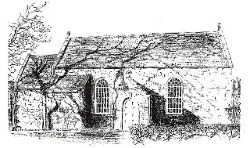 History of the Building
The Arts Centre building is a converted church in Monymusk village next to Todlachie Burn. It was originally a lapidary (stone polishing) mill in the mid-18th Century, although it was never particularly successful. In 1801 the building was converted into an Episcopal church for the congregation of Blairdaff, 3 miles away. Windows were put through both floors and an organ made by Henry Cephas Lincoln of London was installed in the 1820s or 30s. This family firm was one of the five or six leading organ manufacturers in London and due to a number of commissions for the Prince Regent in Brighton (who became King George IV in 1820) Henry was able to call himself 'Organ Builder to the King'!
When a new Episcopal church was built in Kemnay attendance soon dwindled as Kemnay was closer and on the same side of the river for the majority of its worshippers. The building remained as a church until 1939, when it was used to store furniture from Monymusk House, which was being used as a hospital. After the war it remained boarded up until the mid-1980s, when a survey of the building revealed the forgotten organ once again, amazingly still in 80% working order. Fund raising began in 1987 to restore the building and organ, which was restored by Alexander Edmonstone of Perth and the Centre itself was opened in 1990.
For more information and event listings visit the Arts Trust Website at: www.artstrust.org
Monymusk Arts Trust
The Arts Centre
Monymusk
Inverurie
AB51 7HJ
(Scottish charity No. SC007836)
Tel: 01467 651800