The Monymusk Waters are spread over 10 miles of the River Don and provide excellent salmon and trout fly-fishing. There are 24 named pools over 13 beats set in beautiful Aberdeenshire countryside. The Monymusk fishing season runs from 1st April - 30th September. Permits for 'trout only' or 'salmon only' fly-fishing can be obtained from the Grant Arms Hotel reception.
Fishing Info 2013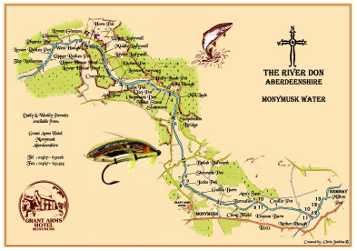 Up-to-date RIVER LEVEL information about the Don at Alford (Bridge of Alford), located about 5 miles upstream of Beat 1 of the Monymusk Waters, can be found on the SEPA website. This information is automatically uploaded at 15 minute intervals so is very accurate.
River level information can also be seen on Visit Scotland's FISH IN SCOTLAND website which includes accurate graphs showing data from the past year, the past 28 days and the last few hours. There are also recent FISHING REPORTS from local anglers which give a good idea of local weather and fishing conditions and what to expect.
The website FISHING THE FLY is a very good local site with fishing tips and info on fishing on the River Don and on local lochs and trout fisheries. See our FISHING LINKS for other recommended fishing websites.
A number of reviews have been written about the Monymusk Fishing Beats in 'Fly Fishing & Fly Tying Magazine', and 'Trout & Salmon Magazine'. Expert fly- fisherman PAUL PROCTER has written some wonderful reviews and articles in Trout & Salmon Magazine and on his blog about the Aberdeenshire Don and Monymusk's excellent brown trout and there have been other excellent reports in several French and Canadian publications.